A.N. Roth Heating and Cooling Named 2020 Inc.credible Awards Finalist
A.N. Roth Heating and Cooling was named a finalist for Greater Louisville Inc's (GLI) 2020 Inc.credible Awards in the Small Business of the Year category. The 20th annual awards, presented by NuLease Medical Solutions, celebrate greater Louisville's small businesses' accomplishments and contributions to the community. Since 2000, the Inc.credible Awards have recognized more than 110 small, local businesses for their ongoing contributions to our community's economic vitality.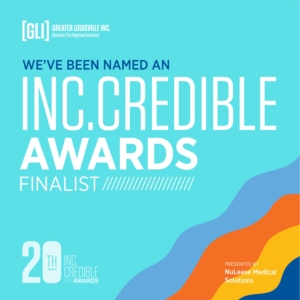 We at A.N. Roth Heating & Cooling are incredibly proud to have been chosen for this honor. 2020 has been among the most challenging in our history of over 150 years. Being a small business means making sure that our employees feel appreciated, respected, and cared for through an unprecedented time for them and their families. It means working extra hard to make sure customers receive exceptional service, no matter what. We're so thankful to be part of this thriving regional economy, and hope to be a Louisville institution for many years to come.
"We have seen that small businesses are the backbone of our regional economy," said Sarah Davasher-Wisdom, President and CEO of GLI. "Despite the challenges our region faced this year, I have witnessed true resilience from our small business community. These finalists exemplify innovation, creativity, and passion for their crafts. We are thrilled to recognize these businesses that excel in pushing the envelope and bringing new ideas to our region."
For the first time, the winners in each category will be announced on December 16th, 2020 at 3:30 PM during a virtual awards show.
###
About A.N. Roth Company (anroth.com)
Established in Louisville in 1866, A.N. Roth has been a trusted local heating and cooling company for five generations. A.N. Roth specializes in custom solutions to HVAC issues and utilizes the most environmentally friendly and efficient components in their state-of-the-art installations. To learn more, visit anroth.com.
About Greater Louisville Inc. (greaterlouisville.com)
Greater Louisville Inc. (GLI) – the Metro Chamber of Commerce is focused on growing the regional economy. As the region's largest convener of business leadership, GLI leads economic and global outreach strategies focused on business attraction, nurtures the entrepreneurial eco-system, and champions the development of the community's talent base. Additional strategic efforts focus on diversity and racial equity to help build a more inclusive economy. As the voice of Greater Louisville's business community, GLI advocates for a pro-business environment and facilitates businesses engagement on issues that impact regional competitiveness. GLI is the 2019 national Chamber of the Year and is one of only three percent of chambers nationally certified with 5-star accreditation status by the U.S. Chamber of Commerce, based on GLI's dedicated policy efforts, effective operations, beneficial programs and overall positive community impact. Learn about our investor benefits and connect with us on Facebook, Twitter and LinkedIn using @GLIchamber or visit www.GreaterLouisville.com.
https://anroth.com/wp-content/uploads/2017/04/A.N.RothLogo_edit.png
0
0
admin
https://anroth.com/wp-content/uploads/2017/04/A.N.RothLogo_edit.png
admin
2020-11-20 15:47:45
2020-11-20 15:55:55
Inc.credible Awards