A.N. Roth Company has been a family owned Louisville business since 1866. Throughout our five-generation history, our commitment to excellent service for the people of Louisville has remained a constant.
1866 – 1897
The progenitor of the A.N. Roth Company, Jacob F. Roth was born in Bavaria around 1843. American immigration laws were laxer at that time, and as a young man with skills as a tinsmith, Jacob was a great candidate. While records from his life aren't ample, we believe that with sponsorship from the newly founded St. Joseph Catholic Church, he was able to immigrate to Louisville around 1866. He set up his tinsmith shop near the church in Butchertown, and he called the business Jacob Roth and Company.
At that time, Jacob worked primarily with tin roofs and stoves, in addition to odd jobs as they arose. Early on, Jacob transported all of his materials and tools in a two-wheeled cart, so the scope of his business was limited by just how far he could walk. Jacob likely worked mostly in the Butchertown area and the East Market District (now NuLu.)
Jacob and his wife Henrietta Wiseman had two children: Alfred N. Roth, and Charlotte ("Lottie") M. Roth. When he was old enough, Alfred began helping Jacob with the business. They graduated from a two-wheeled cart to a horse and buggy, which allowed them to expand the business throughout Louisville as far as Prospect. For larger projects far from home, Jacob and Alfred would take a tent and camp near the worksite until the job was complete.
1897 – 1945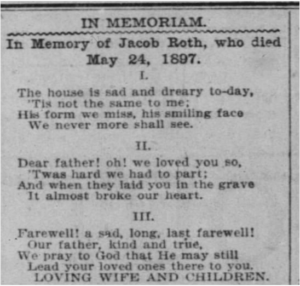 In 1897, Jacob Roth was tragically hit and killed by a train on Story Avenue in 1897, leaving Alfred to take over the family business. Alfred and his wife Elizabeth had three daughters, Henrietta, Magdalena, and Marie, and three sons, Karl, Alfred (Alfie), and Frederick (Fritz).
The name changed to "Alfred N. Roth and Sons." In addition to their work on tin roofs and stoves, Alfred N. Roth and Sons also made sheet metal products for clients like the Fischer Packing Company (now the Mellwood Arts Center) and the University of Louisville. They also expanded the business into hardware.
1945 – 1971
Alfred ran the business until 1945. His son Karl was in line to inherit the company as the oldest, but Karl insisted that the company be divided evenly between his two brothers and him. Now called A.N. Roth Co., the company began taking on larger jobs, like the HVAC systems in the French Lick Springs Hotel, the Ireland Army Hospital in Fort Knox, and the barracks at Bowman Field.
Karl primarily handled the estimating and scheduling, but he was also a true artisan. In addition to his HVAC work, he built stainless steel components for the packing industry and crafted copper tail boxes for big names in the bourbon industry. Over time, the company began to focus less on hardware and sheet metal, and more on heating and cooling services. The three brothers managed the company until 1971, when Karl's son, Karl P. Roth Jr. took over operations.
1971 – Present
Karl Jr. brought outside experience to the business, having worked at Jim Edwards Company (an HVAC company) on Bardstown Road for several years. He also made it a point to get education from experts outside of the Louisville area. He attended frequent seminars and joined organizations like the ACCA (Air Conditioning Contractors of America) to get input, success stories, and perspectives from outside of his circles. In 1978, Karl Jr.'s sister Rose Mary also joined the family business.
A.N. Roth Company continued to grow, gaining a reputation in the city for HVAC expertise and customer-focused service. With the addition of Karl Jr.'s sons, Phillip III and Richard, A.N. Roth continues to keep on the cutting edge of technology. Always shifting to meet the demands of the market, A.N. Roth is now the Louisville-area expert on radiant heat and geothermal energy.
Less than 3% of family-owned businesses operate into the fourth generation and beyond. A. N. Roth Co. is proud to be among those select few, serving Louisville for over 150 years, and we plan to continue to provide superior products and services for many years to come. Over the years, there have been offers to sell our business, but we will always be family owned. The technology and the services that we offer may have transformed over the years, but we've never stopped following the essential tenets embraced by every generation of A.N. Roth: do the job right the first time, treat your team with respect, and always put the customer first.
https://anroth.com/wp-content/uploads/2017/04/A.N.RothLogo_edit.png
0
0
admin
https://anroth.com/wp-content/uploads/2017/04/A.N.RothLogo_edit.png
admin
2020-09-11 19:32:47
2020-09-11 20:10:09
A.N. Roth Co., Family Owned Since 1866