Louisvillians are moving forward and trying to establish their "new normal." Even so, COVID-19 and air quality remain pressing health concerns. In public, we wear face masks and maintain social distance, but how can we improve the safety of our homes, schools, and offices? When it comes to improving indoor air quality, there are options from simple changes to large installations. These options range in price from completely free to several thousand dollars. If you're interested in learning more about any of the options listed here, give us a call at 502-378-7366.
1. Improve Air Quality with a Whole House Air Purification System
In June we wrote a blog post about one of our favorite products: the IQAir Perfect 16 Whole House Air Purifier. This medical-grade whole house purification system has the highest possible air filtration rating. It must be retrofitted into your existing HVAC system. It removes not only 95% of particles larger than 0.3 microns, but it's also 85% effective in removing particles above 0.003 microns (the smallest that exist). If you're worried about small particles like fungi and viruses, you can't do much better than the IQAir Perfect 16.
2. Get A Quality Air Filter for Your HVAC System
Your home air filter is designed to keep your heating and air conditioning systems clean of dust and debris. It may seem like getting a more efficient air filter will automatically mean cleaner air. However, that can also mean reducing airflow. It's also vital to change your air filter regularly. Many things can impact how frequently you need to change your air filter. For example, the age and location of your home, whether or not you have pets, how many people live there, whether any of them have breathing problems, and so on. Make sure to check your air filter regularly, because a high-quality filter can become useless if it gets clogged. Call A.N. Roth to learn what air filter works for your system.
3. Install A UV Sanitization Bulb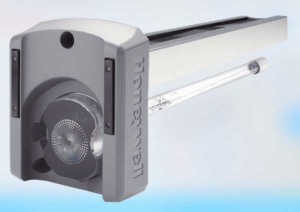 UV bulbs have no impact on particles like dust and dander. For that reason they are not a replacement for a good-quality and regularly changed air filter. However, UV bulbs significantly help with things like mold growth, bacteria, and viruses, as well as keeping your evaporator coil clean. It's also possible to get a UV light product that eliminates odors, like this one from Honeywell. The installation can be expensive, and the UV bulb will need to be replaced yearly because it will degrade over time. While the initial investment may be pricier than you'd like to go, UV sanitation is great for active households, office spaces, and schools, and ultimately cost much less than a whole house purification system.
4. Utilize Humidification and Dehumidification Systems
Depending on the season, the humidity levels in your home can change drastically. Using humidifiers and dehumidifiers can help regulate humidity levels to improve comfort and health. Ideally, indoor humidity should be between 30-50%. During winter weather, when outdoor humidity plummets, humidifiers prevent the spread of bacteria and viruses, moisten the air passages in our sinuses and lungs, and make our home more comfortable. Allergens like dust mites and mold thrive in moist conditions, and excess moisture in the home can damage wood floors, furniture, artwork, electronics, and even your home's structure. During the summer when humidity increases, dehumidifiers are important to keep relative humidity below 50%.
5. Bring in Fresh Outside Air
According to the Environmental Protection Agency, indoor air can be significantly more polluted than outdoor air. Most homes have some degree of natural fresh air infiltration through cracks and small openings in the house's structure and openings, but it's important to bring fresh outside air into your home regularly. Whether by opening windows or doors or through mechanical means like outdoor air intakes.
There are numerous ways to improve your indoor air quality, from something as simple as opening your windows more often, to something as significant as a whole-house air purification system. If you want to learn more about how to improve the air quality in your home, contact A.N. Roth Heating & Cooling today!
https://anroth.com/wp-content/uploads/2017/04/A.N.RothLogo_edit.png
0
0
admin
https://anroth.com/wp-content/uploads/2017/04/A.N.RothLogo_edit.png
admin
2020-10-06 14:12:21
2020-10-07 13:22:00
Air Quality Tips and Tricks for Every Home