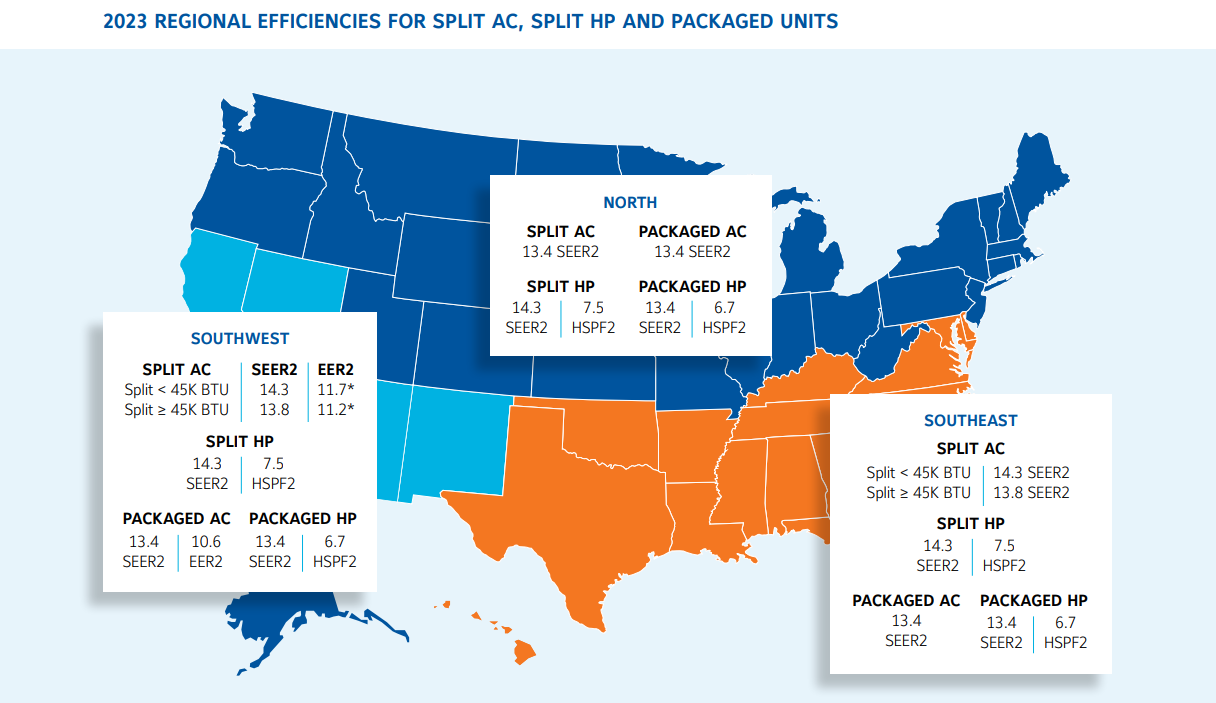 On January 1, 2023, the Department of Energy (DOE) is making critical changes to the minimum energy efficiency standards and installation requirements for newly-manufactured air conditioners and heat pumps—and they are a bit different depending on whether you live in Kentucky or Indiana.
Here's what you need to know…
Increases to Minimum Efficiency Requirements
The new DOE standards will increase the minimum efficiency of residential equipment approximately 7%, or the equivalent of 1 SEER point and .6 HSPF for most equipment. OEM ratings will be based on a new test procedure and result in new metrics — SEER2, HSPF2, and EER2.
Requirements for Installation and Manufacture Differ by Region
There will also be different date-of-installation and date-of-manufacture requirements based on product type and by region. In the North (which includes Indiana), the sale of residential air conditioning units built prior to January 1, 2023 is permitted on or after January 1, 2023, but newly manufactured SEER2, EER2 products must meet the 2023 minimum requirements in addition to being tested to a new DOE test procedure.
Units in the Southwest and Southeast (which includes Kentucky) are classified as date-of-installation products and must be completely installed no later than December 31, 2022.  AC units that do not meet the new 2023 SEER/EER minimums can't be legally sold.
Have Questions?
Needless to say, A. N. Roth always takes every precaution to ensure our new installs meet every requirement. If you'd like to know more about the new standards and how they might affect your HVAC project, please give us a call and we can run you through the finer details. You can also click HERE for comprehensive regulatory resources including downloadable summary sheets and guidebooks.
https://anroth.com/wp-content/uploads/2022/10/DOE-2023-Regional-Residential-Efficiencies-Map.png
703
1216
admin
https://anroth.com/wp-content/uploads/2017/04/A.N.RothLogo_edit.png
admin
2022-10-19 15:32:45
2022-10-19 15:33:58
New Energy Efficiency Standards Coming in 2023